Kazakhstan, officially the Republic of Kazakhstan, is the world's largest landlocked country, and the ninth-largest in the world, with an area of 2,724,900 square kilometers (1,052,100 sq mi). It is a transcontinental country largely located in Asia; most western parts are in Europe. Kazakhstan is the dominant nation of Central Asia economically, generating 60% of the region's GDP, primarily through its oil and gas industry. It also has vast mineral resources.
Kazakhstan is officially a democratic, secular, unitary, constitutional republic with a diverse cultural heritage. Kazakhstan shares borders with Russia, the People's Republic of China, Kyrgyzstan, Uzbekistan, and Turkmenistan, and also adjoins a large part of the Caspian Sea. The capital is Nur-Sultan (until 2019 Astana), where it was moved in 1997 from Almaty, the country's largest city. Kazakhstan was the last of the Soviet republics to declare independence during the dissolution of the Soviet Union in 1991. The country has worked to develop its economy, especially its dominant hydrocarbon industry.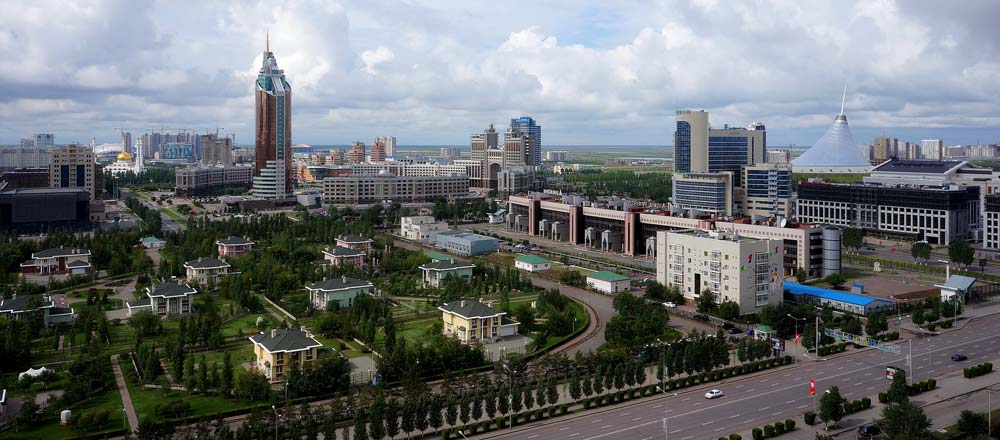 The Kazakh language is the state language, and Russian has an equal official status for all levels of administrative and institutional purposes. Kazakhstan is a member of the United Nations, WTO, CIS, the Shanghai Cooperation Organization (SCO), the Eurasian Economic Union (EEU), CSTO, OSCE, OIC, and TURKSOY.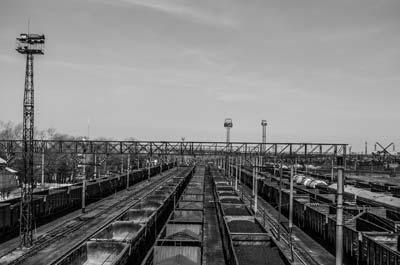 Kazakhstan has an abundant supply of accessible mineral and fossil fuel resources. Development of petroleum, natural gas, and mineral extractions has attracted most of the over $40 billion in foreign investment in Kazakhstan since 1993 and accounts for some 57% of the nation's industrial output (or approximately 13% of gross domestic product). According to some estimates, Kazakhstan has the second-largest uranium, chromium, lead, and zinc reserves; the third largest manganese reserves; the fifth largest copper reserves; and ranks in the top ten for coal, iron, and gold. It is also an exporter of diamonds. Perhaps most significant for economic development, Kazakhstan also currently has the 11th largest proven reserves of both petroleum and natural gas. Other major exports of Kazakhstan include wheat, textiles, and livestock. Kazakhstan is a leading exporter of uranium.
Kazakhstan has the largest and strongest performing economy in Central Asia. Supported by rising oil output and prices, Kazakhstan's economy grew at an average of 8% per year until 2013, before suffering a slowdown in 2014 and 2015 Kazakhstan was the first former Soviet Republic to repay all of its debt to the International Monetary Fund, 7 years ahead of schedule. Kazakhstan's fiscal situation is stable. The government has continued to follow a conservative fiscal policy by controlling budget spending and accumulating oil revenue savings in its Oil Fund – Samruk-Kazyna.
The banking industry of the Republic of Kazakhstan experienced a pronounced boom and bust cycle over the 2000s decade. After several years of rapid expansion in the mid-2000s, the banking industry collapsed in 2008. Several large banking groups, including BTA Bank J.S.C. and Alliance Bank, defaulted soon after. Since then, the industry has shrunk and been restructured, with system-wide loans dropping to 39% of GDP in 2011 from 59% in 2007. Although the Russian and Kazakhstani banking systems share several common features, there are also some fundamental differences. Banks in Kazakhstan have experienced a lengthy period of political stability and economic growth. Together with a rational approach to banking and finance policy, this has helped push Kazakhstan's banking system to a higher level of development. Banking technology and personnel qualifications alike are stronger in Kazakhstan than in Russia.
Kazakhstan achieved its goal of entering the top 50 most competitive countries in 2013 and has maintained its position in the 2014–2015 World Economic Forum Global Competitiveness Report that was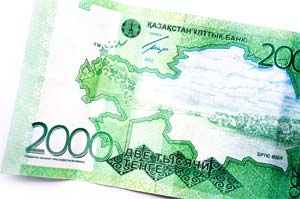 published at the beginning of September 2014. Kazakhstan is ahead of other states in the CIS in almost all of the report's pillars of competitiveness, including institutions, infrastructure, macroeconomic environment, higher education and training, goods market efficiency, labour market development, financial market development, technological readiness, market size, business sophistication and innovation, lagging behind only in the category of health and primary education. The Global Competitiveness Index gives a score from 1 to 7 in each of these pillars, and Kazakhstan earned an overall score of 4.4.