Bulgaria / Kazakhstan Hybrid Solution
WHAT IS MIX'n'MATCH IN FINANCIAL LICENSING?
MIX'n'MATCH is a unique product and service line of ours. As the currently only Corporate Services Provider, we understand the importance of combining several financial licenses from around the Globe into one package, allowing business owners to offer far more products and be more flexible rather than focusing on just one jurisdiction and facing heavy restrictions regarding the scope of activities. Goal is to maximize the scope of activities and financial products. Offer Payment Processing, Crypto Services, Forex or CFD Trading or Non-CRS account and wallet services - all under one roof - but without the need to apply for a bank license or many expensive single licenses. You will save hundreds of thousands of Dollars capital requirements, on compliance expenses, staff and office requirements and can start operating with your new multi national financial institution in no-time, rather than waiting many months for regulators' approvals.

WHY TO MIX'n'MATCH?
The Advantages Convince
You onboard your international clients with the regulated company in Bulgaria and benefit from the good reputation of Bulgaria as a fully accredited EU Member State.
• NO ADDITIONAL CAPITAL REQUIREMENTS - Save hundreds of thousands of Euros compared to other countries
• Bulgaria has along with Cyprus, Ireland and Malta the lowest corporate tax rate of just 10%. By using third party companies outside the EU, we can even help to reduce this tax "burden" to almost zero
• The Kazakh company is not tax exempted and 16% Corporate Tax applies, but we will use priceless loopholes to reduce the tax burden to almost ZERO through outsourcing of activities.
• You can accept and onboard corporate and individual clients from all over the world except those from high-risk restricted countries (such as Iran, Afghanistan, Yemen, Somalia, Libya or North Korea)
• Only one Director and Shareholder are required (Bulgaria and Kazakhstan). It can be you or anyone (EU individuals recommended). With such a tight ownership structure you have all processes under your very own control. If desired, the Kazakh Company be managed and owned by "Nominees". Our affiliated law firms will be delighted to offer this service for an extra fee.
• Remote Setup in Kazakhstan with our without Nominees possible. If you decide for the Nominee Solution, all can be done even through email without Notary visits. No Apostilles required (Nominee Service). Very low monthly maintenance costs for office and accounting (it's more than affordable)
• No mandatory emplo yment of local compliances or other staff - will keep your ongoing costs in your budget
• OUR PROFESSIONAL PARTNERS WILL TAKE YOU BY THE HAND DURING YOUR ONE-TIME STAY IN BULGARIA, GO WITH YOU TO THE REGISTRY OFFICE, NOTARY, PREPARE THE AML/KYC POLICIES, VISIT THE LOCAL BANKS TO SETUP YOUR BUSINESS BANK ACCOUNTS TO ACCEPT CLIENT FUNDS VIA SEPA OR SWIFT
5/6-DAY VIP SERVICE IN BULGARIA
COMPANY 1
Bulgaria: Regulated (EU Law) Professional Trustee & Crypto Services Provider to onboard clients & use payment infrastructures
Bulgaria is offering you (so as all other EU member states but under most favourable and flexible conditions) the setup of a Professional Trust Management Company including accreditation of the Revenue Services Agency as Regulator/Supervisor, to conduct Trust Services of any kind as well as crypto related activities.
Bulgaria enables EU-compliant working as crypto, wallet and trading services operator and custodian / fiduciary service provider.
Onboarding and customer money management take place according to adopted EU standards, so your entity will enjoy a good reputation with your international clientele. This company will be used to gain SEPA and SWIFT access through fully licensed EU banks, enabling you to accept customer fund transfers (Third Party Transfers) internationally into your entity.
All clients are being onboarded in the first step through the Bulgarian company, fund their wallets and accounts with your entity. In the second step, crossselling within one platform can be initiated or onboarded Trust clients directly purchase the Kazakh products by initiating internal transfers from their wallets/accounts in the Trust company to the account of the Kazakh company.
COMPANY 2
Kazakhstan: Financial Company to provide worldwide financial services without Regulator's intervention
The establishment of an onshore company (domestic entity) in Kazakhstan will let you benefit of many advantages. Become free as an entrpreneur and provide Forex / CFD / Brokerage Services to a worldwide audience. Feel totally free to inspire your clients with unique crypto products or simply offer offshore non-CRS triggering wallets and digital accounts. The corporate setup in Kazakhstan will be performed through us. Our local experts will help to establish the entity remotely without the need to travel to this Central Asian country.
The company will be properly registered for all activities falling under SIC CODE: 64999. Your corporate activity will include "other types of financial services, except insurance and pension funds". Since crypto activities and/ or offshore Brokerage and Forex Services (if provided to Non-Kazakh Citizens and Residents), are not subject for licensing and there is no regulating regime in place, you will enjoy using this loophole-solution to serve better, faster, with less costs and no regulator intervention your international clientele.
The Company will receive a comprehensive AML/CFT Compliance Manual to adapt to international standards, but still, you will enjoy a maximum of flexibility.
BULGARIA SETUP TO BECOME A EUROPEAN PROFESSIONAL TRUST PROVIDER
KAZAKHSTAN FINANCIAL COMPANY FOR OFFSHORE FX/CFD/BROKERAGE OR CRYPTO ACTIVITIES
OFFER MORE SERVICES
This graphic displays how a payment flow from a European or international customer could work.
Example: You setup a Bulgarian Trust License & a Kazakh Financial Company and wish to offer CFD/FX Brokerage or Crypto Services in addition to the Trust Services. All you have to do is to verify, identify and onboard the customer with the Bulgarian company and also let him apply for a brokerage account with the Kazakh Financial Company. In Bulgaria a virtual trust between the client and you as professional trustee is being created. The client transfers from his own accounts the funds into the bank account of the Bulgarian Company into his "personal trust". The Kazakh Financial Company also maintains a trust account with the Bulgarian institution. From there an internal transfer may be initiated by the client to the trust account of the Brokerage company (also held with the Bulgarian Trust Company).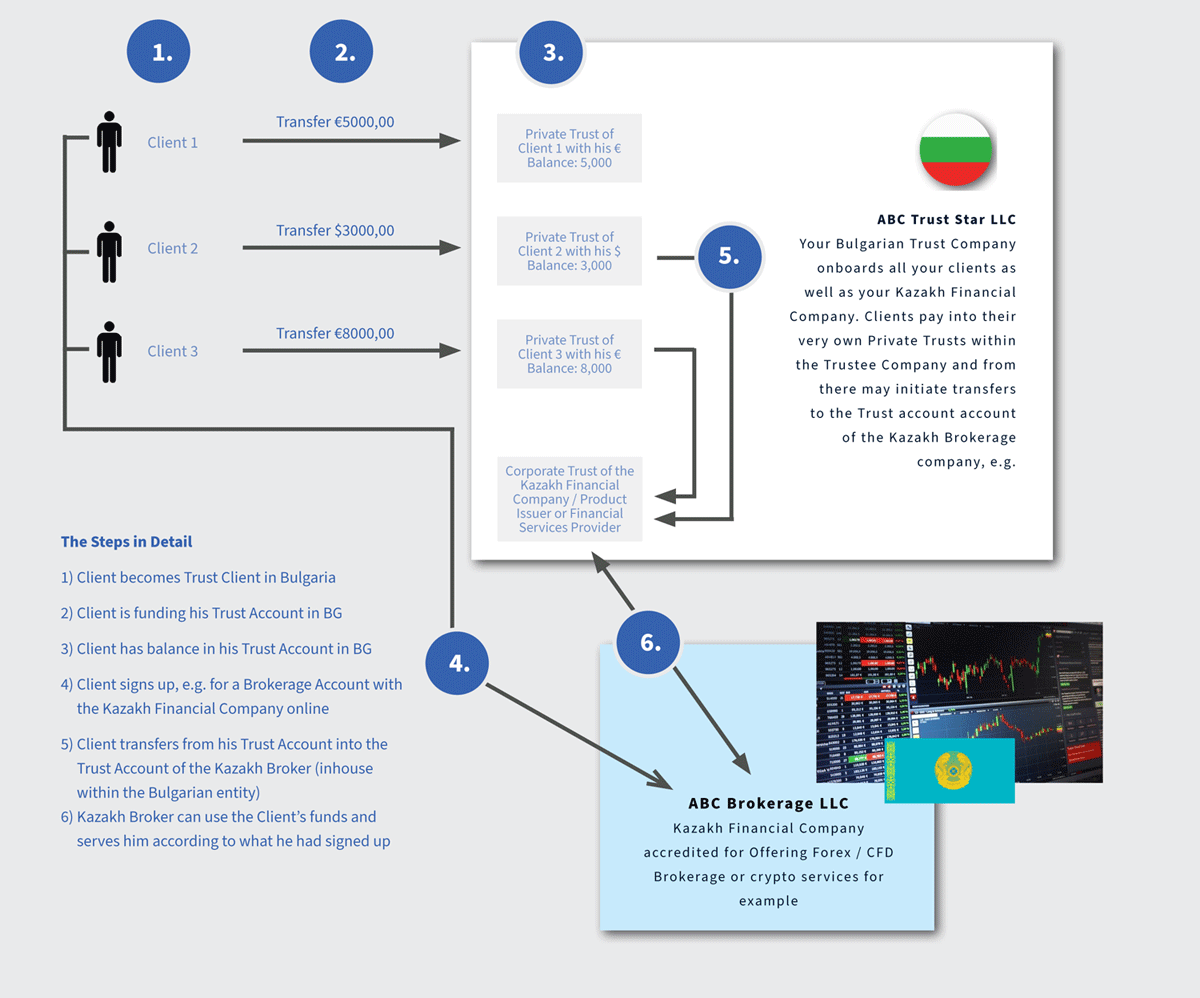 Ready to get the process started?
Contact us today!